---
Bitcoin is back on a bull trend, and the market sentiment is calling for a go at the $1000+ all time high! Upward pressure on price is absorbing speculation on China's Yuan devaluation and economic uncertainty on what a Trump win portends. Bitcoin core fundamentals are revving up for an upgrade to SegWit code 0.13.1 and the price of Bitcoin is heading up to $900 in the coming weeks, just in time for Christmas!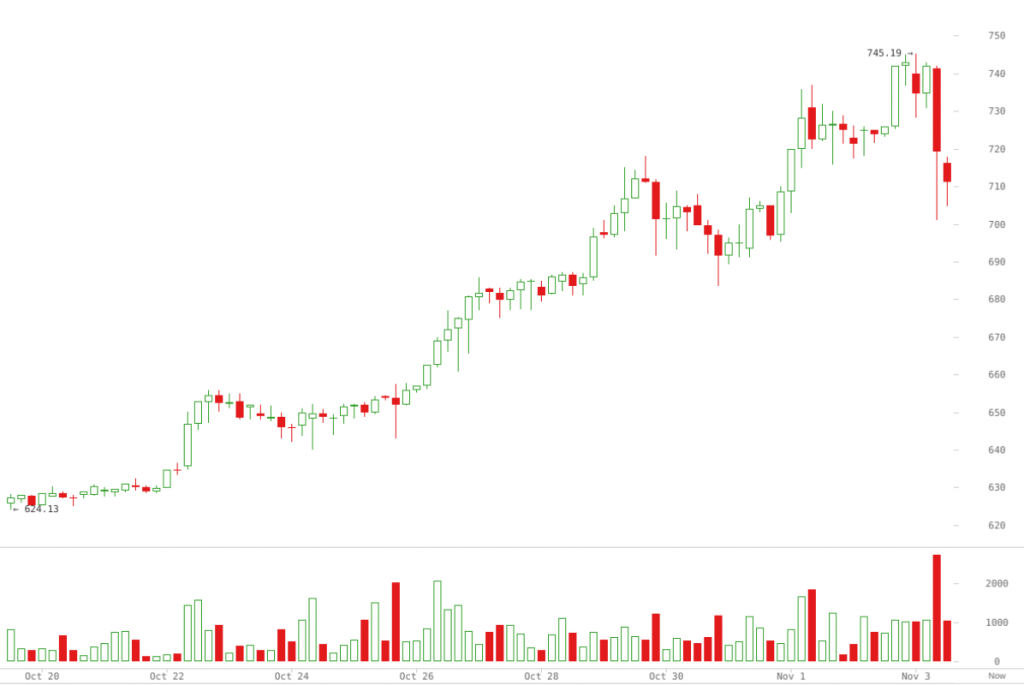 As of writing this, price is at $715.92, having retraced from $750. This week, price consolidated at the $700 for a couple of days, dipping as far as $685. A deep V-shaped bottom resumed the trend up, a reflection of the intent that has buoyed price 24% higher month on month.
===
Bitcoin investor Barry Silbert, one of many market pundits, has forecasted a retest of the all time highs.
"Expect 2017 to be a very good year for Bitcoin's price. Bitcoin as a store-of-value reemerges as a key theme"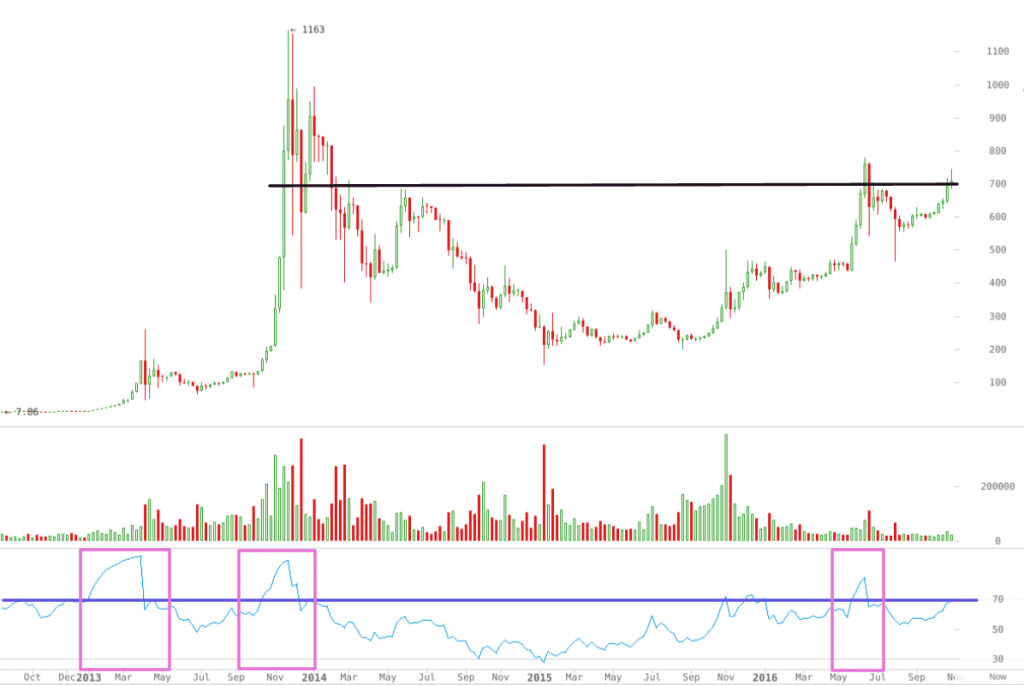 Relative strength indicator (RSI) touched the 70 overbought threshold for the first time since the per-halving $778 high in July. 2013's $250 high and December 2013 $1163 all time high are the only 2 other highs associated with overbought zone. Today, it coincides with an impending retest of $759, a pivot zone dating back to December 2013. This level was support after the ATH sell off.
While there is plenty of room for a spike to $900 after breaking resistance, in the short term, a sideways chop or a minor correction are likely outcomes. Much of it hangs on whether a sudden push above resistance materializes. At significant price levels, sideways chops are healthy. We may just get more sideways until after the weekend, I would not take a short position, however.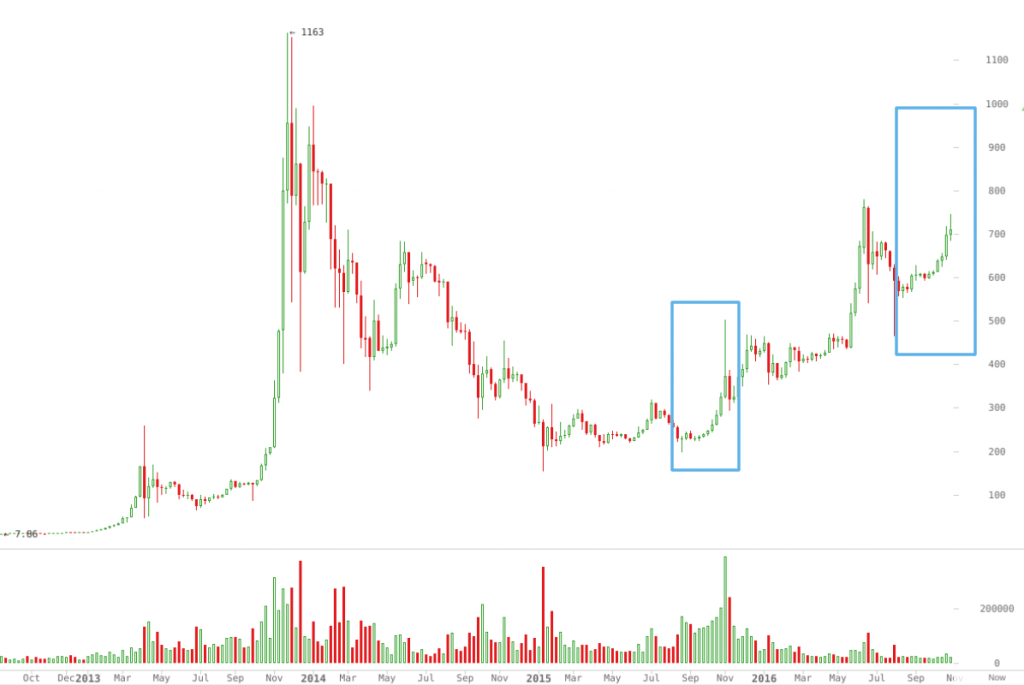 It has been an exponential curve up from the Bitfinex hack sell off in August. Just like back in August 2015, when margin calls triggered a sell off to a $192 low, price has recovered strongly. If it's anything to go by, we will see a similar 5 wave price rise. Bollinger bands are starting to tighten same similar to October 2015, when a spike blew past $500.
It is a great time for bitcoin to assert itself. Already, the higher highs have caught the media's attention. The news trotted out feed back to the market, fuelling expectations.
WinkleVoss Bitcoin ETF Approval on Hold
The waiting period for the Winklevoss Bitcoin ETF approval by SEC may not be over, but that did not stop Bloomberg Finance running a story of "Five Reasons the Winklevoss Bitcoin ETF Should Be Approved". Since 2013, the trust grew 610%, but their ETF filings are still open for public comments. Investors will have to wait a while longer for an alternative to the private open ended GBTC trust, that trades at a premium on most market days.
"This kind of situation is why people love the ETF structure, with its creation/redemption process that helps keep prices and net asset values closer together via arbitrage."
Needham Report Projects $850 Bitcoin Price
Needham, an investment research firm put out a report to its subscribers, recommending a buy with a target of $848, Zerohedge reported. Spencer Borgart, one of the authors, has a reputation of making great calls. The analysts report projected a $650 target before the pre halving high.
Needham's attributed readjusted targets were influenced by:
"1) adoption trending faster than we forecasted in March, 2) improving fundamentals, and 3) upcoming protocol improvements that present attractive optionality for the price of Bitcoin."
Bitcoin Weekly Price Forecast
This week, price will be neutral to bullish. With the only resistance left at the $778 July high, there is plenty of room for more upside up to $850 minimum. The market may move sideways at this juncture to consolidate, before breaking the 26 month resistance. Buying pressure should pick up once this psychological level is breached with certainty. We might see another week or so of price appreciation before the next pullback.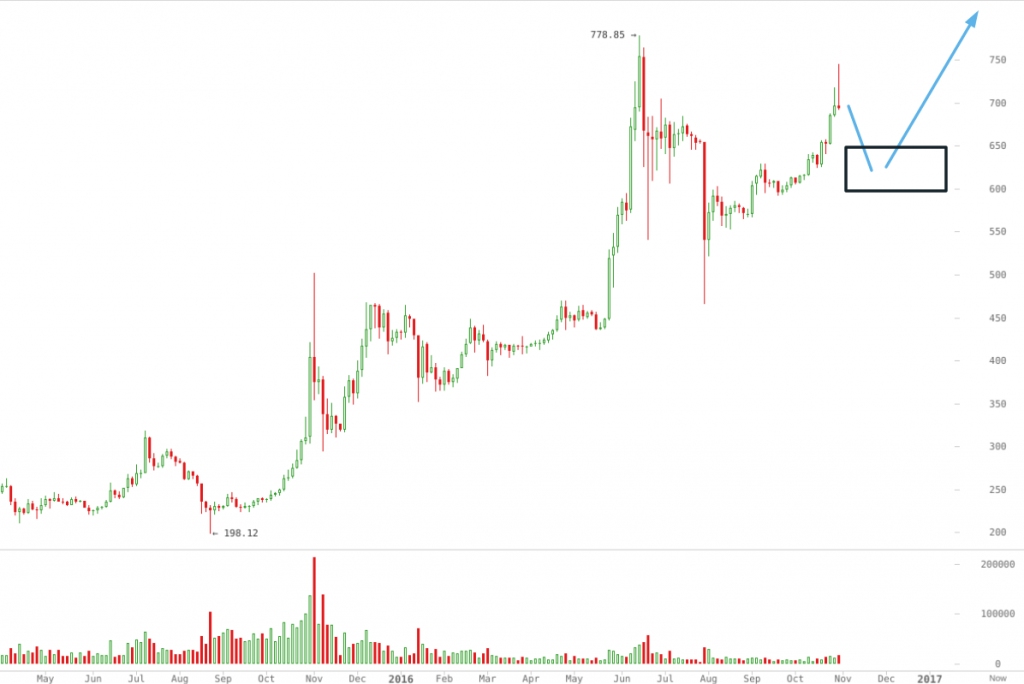 WeGotCactus of bitcoin markets says:
"If this rally continues to steepen, this is the one that will pierce ATH. The question is will it bounce or FOMO past it."
The psychological barrier of breaking the all time high is pretty big!
Vinny Lingham suggests the true Bitcoin all time high has already been breached, at $697. He forecasts a market cap of $15 billion over the next 2 months.
Nagatora from bitcoin markets says:
"I think it's a fairly safe bet that if Bitcoin gets seriously near the old ATH (>$1000), it will continue upwards a good deal further. Keep in mind that the last bubble started around $100."
Check back soon for more market analysis!