---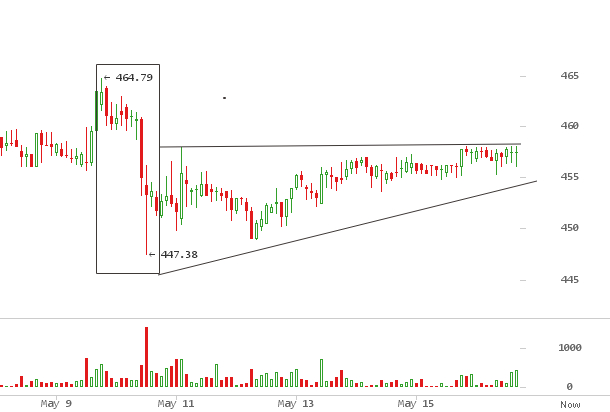 Following a May 10th sell off to $445, Bitcoin retraced up this week,
pushing up to $460 from a double bottom low at $445. In the past 30
days, price action has been limited to an upper $471 and $434 lower
bound. So far, price has been on an uptrend making higher and higher
lows within this range, and looks likely to retest $470; a level that
has failed 4 times in the past since November 4, 2015. As of writing
this, bitcoin is trading at $455.
===
The sell off from $464 spooked traders fearing fresh lows. The double
top failure to break resisteance at $466 and $464 on the 2 hour chart
at BitcoinAverage however, found support at $447, bouncing off it again
at $446. The resulting week's price action was a narrowing tight
squeeze encountering multiple resistance right below $460. The higher
higher lows on the gradual trend up was a positive for traders.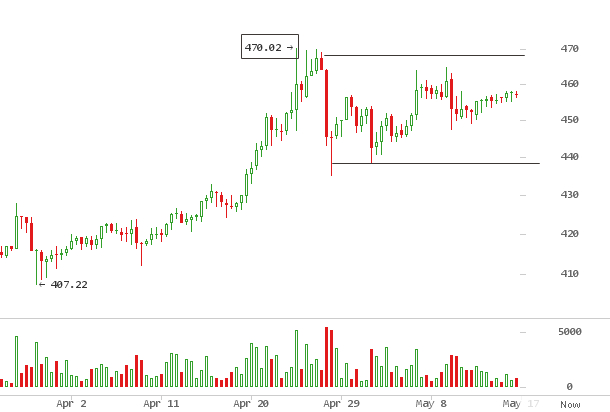 Price has been trading within a range marked by $470 upper and $440
lower bounds, since April 26 after peaking at $471. A retest of $465 –
$470 is close, but could be followed by a downtrend to the lower bound
of the range. With the bitcoin halving only 60 days away, the market is
taking its time on a sideways trend, fueling uncertainty amongst
traders. It is an uncanny resemblance to Litecoin's halving bubble on
August 2015. A trader on reddit
suggested
"I'm long too, but I feel like the longer we wait the more explosive
the pump will be. LTC did this at $4 until 6 weeks before the halving,
the BOOM."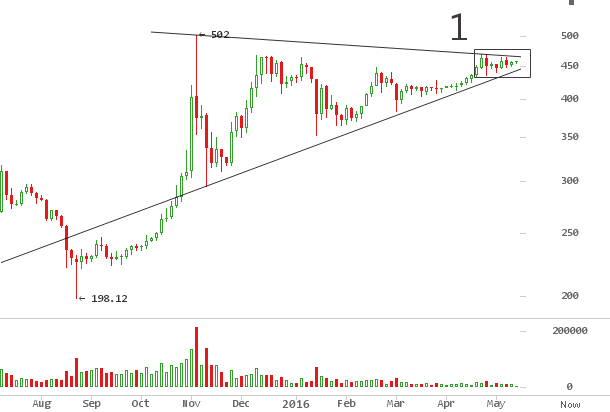 The greatest source of concern for the market is the obvious pattern on
the 3 day chart; an ascending triangle pattern in force since November 4
Technically, as a continuation pattern,it is expected to break
upwards past the descending slope. But, it has taken an unusually long
time, and doubt is creeping in amongst traders on its validity.
Narrow sideways trading at (1) has turned this break out less obvious.
$460 – $480 poses a threat to bullish hopes. Traders
agree
"While we continue to anticipate an upside resolution in the not too
distant future, we also realize that there is a ton of historical
resistance between 460 – 480 $ so it could continue to be a slow, tough
slog through this area."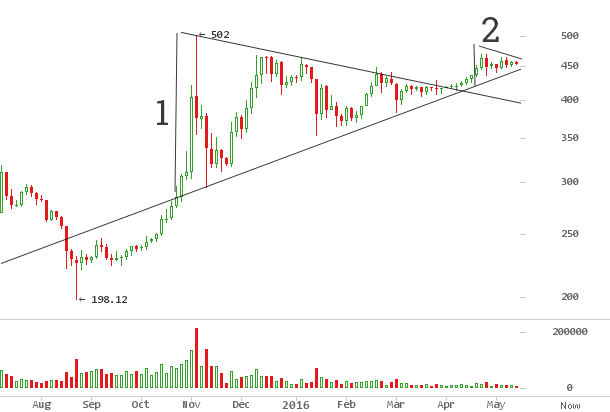 Redrawing the triangle, instead using a sloping trendline from the all
time high of December 2013 at $1163 shows the larger triangle (1) has
already been broken to the upside. The current price action is trending
within a second triangle (2) fractal of a lower degree, similar to (1).
Given their similarity, it too potentially breaks up above $470.
Volumes across all exchanges are a concern as well, as they are the
lowest on a view of bitcoin markets since the all time high at $1163.
Meanwhile, margin longs are at an all time high on Bitfinex. A sudden
bearish turn at these levels, could turn ugly as longs get margin
called.
Gatecoin Hong Kong Exchange Crypto Assets Hacked
Over the course of May 9-12th, Gatecoin's hot wallet system was breached
and left exposed to an attack by hackers. 15% of the exchange's crypto
assets were lost, amounting to a $ 2 million loss.A Post hack forensic
audit by Tehri security and the team found 180,000 ETH and 250 BTC
missing according to an official statement on
gatecoin, saying
"The malicious external party involved in this breach, managed to alter
our system so that ETH and BTC deposit transfers by-passed the multi-sig
cold storage and went directly to the hot wallet during the breach
period"
Russia's Plan to ban bitcoin hits a wall
Russia's Ministry of Finance proposed attempt to ban bitcoin through a
draft bill was this week disapproved by the Ministry of Justice, citing
conflict and contradiction with existing laws of the Criminal Code. The
first draft was rejected in March this year, but the Ministry of Finance
was adamant, submitting for a second time it with minimal alterations.
Despite being under pressure, the Ministry of Justice's demanded for
additional grounds for criminalisation of cryptocurrencies. The ministry
of finance is seeking to have oversight of exchange activities between
cryptos and ruble fall under an already anti-bitcoin biased committee,
the Investigative Committee.
Open Source Bitcoin blockchain beats Private chains
The hype around private blockchains has shifted attention from bitcoin
to bank consortium distributed ledgers. Banks believe bitcoin the
currency is not necessary for distributed consensus. This week, Coinbase
co-founder Ehrasm spoke to Yahoo finance reporter and offered his
opinion.
"the whole network of blockchain without bitcoin will amount to very
little in comparison with the open network"
The potential price of bitcoin is directly correlated with value created
from use of its underlying blockchain.
Bitcoin Price Forecast
In this coming week, price action will be limited to the $440 – $470
range. This range should persist for a while, 2 – 4 more weeks; there is
plenty of room to move up, get rejected by $70 resistance and sell off
to support at low $440s.
The pattern here resembles price action from mid March to mid April; a
series of higher lowers, bound within a range. Once a reasonable
momentum is gained within the trading ranges, a final breakout follows
bouncing off the upper resistance line as support, to new highs. $440 –
$460 closely resembles $400 – $420; a consolidation before a breakout
above a major resistance level.
In the medium term, the effect of the upcoming supply halving cannot be
ignored. A bullish trend is on the horizon and is a matter of when
versus if it will happen. The sheer bullish sentiments on speculative
forums should kickstart a FOMO driven buying frenzy. Once sensationalist
news sites pick up on rising prices and the supply halving event, it
will make for an exciting halving bubble. Targets here over the coming
months top off at $700, with room to as high as $800.