---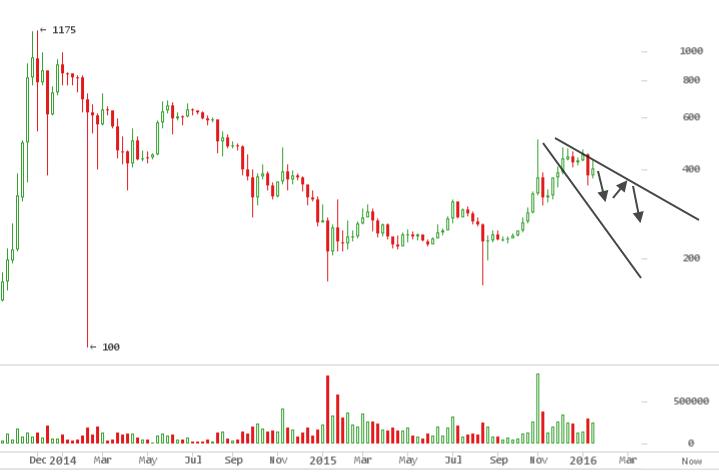 The above chart is bitcoin price action over the past week. After
breaking down to a low $352, the price retraced this week, spiking up to a
local high at $428 on Wednesday January 20th at 8pm UTC. The price
of bitcoin is often swayed by news speculation; bitcoin was fortunate to
receive a ton of mentions at the World Economic Forum this week, capped
off by a report by the IMF subtly extolling its value proposition. $428
peak failed right below a resistance level at $431; price went on to
retrace the whole spike down to $371. At the time of writing this,
bitcoin is trading at $399 on Bitstamp.
===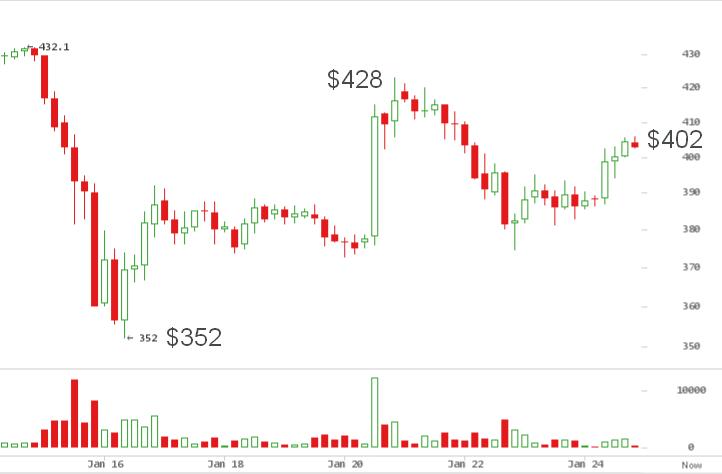 The chart above, with exponential moving average lines, illustrates
support just above 100d EMA. A trading range seems to be developing,
flanked by 100d and a band of 13d, 30d and 50d. Over the coming week or
two, a pattern is likely to emerge. Similar patterns have evolved in the
past, with average lines acting as support (marked in boxes), preceding
a decisive break in either direction.
A break up or down looms, once a pattern reveals itself. The exact
direction however, rests on bulls vs bears. $352 and $428 are bear and
bull extremes respectively; a break out on either confirms a long or
short signal for traders. This range will be choppy, and the push for
territory by either side will narrow the range and force a decision.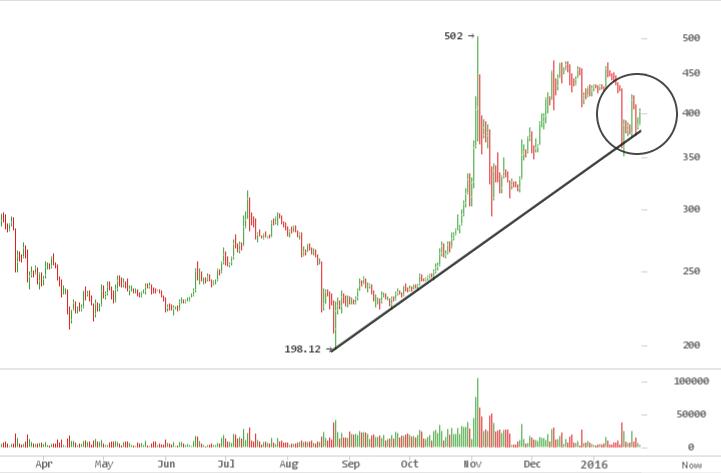 This weeks trend of higher lows has been held up by a rising support
line from a the $198 low on August 24, 2015.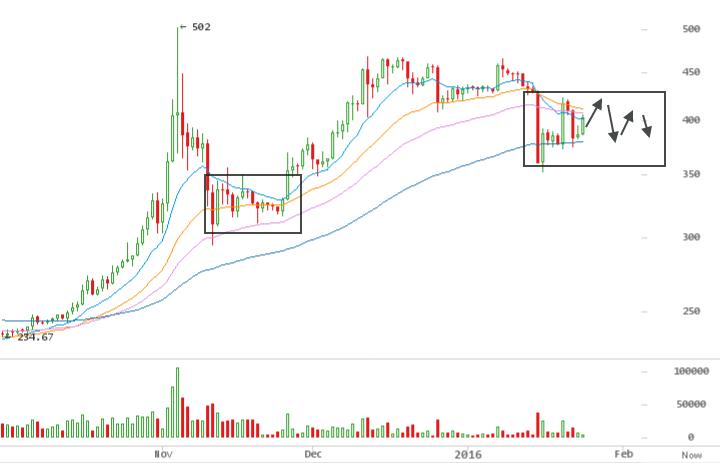 Zooming out on the weekly, an even longer support line extends back to
2013, where bottoms at $46 in April 2013, $61.3 in July 2013, and
$153 in January of 2015 maintained the trend. Inarguably, it is a
significant trend line, that now cuts at $276; a fair target for
support if price fails at point X to the downside. As it is now, it's
already hanging on the edge of falling right through 200 MA.
Considering the ongoing kerfuffle on raising the block size or forking
the blockchain, $350 is unlikely to hold, and a breakdown should trend
to the longer term trendline at $276. It may take a couple of weeks to
complete. The potential for an upside break to $500 seems limited by
systemic risk, the fundamental issues of the bitcoin protocol.
IMF presents report on Bitcoin and Virtual Currencies at World Economic Forum
On 20th, Wednesday 2016, while speaking at a Transformation of Finance
panel at the Davos Conference, IMF Chief Christine Lagarde presented a
staff paper on virtual currencies. It is the first attempt by IMF to
describe virtual currencies, and even they admit Bitcoin poses
definitional challenges for regulators.
It is well worth a read, from the perspective of incumbent financial
institutional structures that Bitcoin will come up against. In fact, the
report highlights
some fears and apprehension held by money issuers:
"The nearly fixed supply of VCs – particularly many cryptocurrencies –
could result in structural deflation in the same way as the gold
standard."
It goes on to admit "VC schemes have been used to circumvent exchange
and capital controls."
Ironically, these are Bitcoin's greatest features as a digital asset –
capped supply and censorship resistance.
Central Bank of China mulls digital currency
Reuters
reported the People's Bank of China, is looking into issuing its own
digital currencies, saying:
"Virtual currencies can also help boost transparency of economic
activities and curb money laundering and tax evasions."
A statement, posted on its official website
www.pbc.gov.cn, urged a PBOC research team,
looking into VCs since 2014, to craft a path to launch.
It is expected such actions would "cut the costs of circulating
traditional paper money and boost policymakers' control of money supply."
CFTC Appoints bitcoin trading expert to its technical advisory committee
Paul Chou, CEO and founder of LedgerX, a bitcoin clearing house and
exchange for options, was appointed as advisor to its Technology
Advisory Committee (TAC). If the company's application to the CFTC is
successful.
"LedgerX would be the first, federally-regulated bitcoin clearing house
and options exchange to list and clear fully-collateralized,
physically-settled bitcoin options for the institutional market"
This appointment is significant, especially because the CFTC officially
recognized bitcoin as a commodity back in September 2015.
Bitcoin Weekly Price Forecast
As pointed out earlier, as of writing this, the bitcoin price sits in fickle
territory, above a support line and 200 day moving average. Traders'
sentiment is evenly split between above $400 price expectations, and a
break below $350 support to $320 targets.
Even on
reddit,
user comments by chewtoy and zapdrive are indicative of this state:
"Struggling to comprehend who is buying at $390+ after price shot up to
$425 and shot back down to $380 within 48 hours."
"Goes the other way too. Struggling to comprehend who is selling at 390
after price shot up to 425 within 48 hours."
This week the price of bitcoin would seem to be in neutral territory,
but with bearish expectations. A period of choppiness and sideways
movements, limited within a trading range, will persist until weak hands
are shaken off. Once price drags out long enough, in a narrowing range,
it is bound to break out decisively. All factors considered, a
continuation of the bear trend is more probable as seen in this chart
below.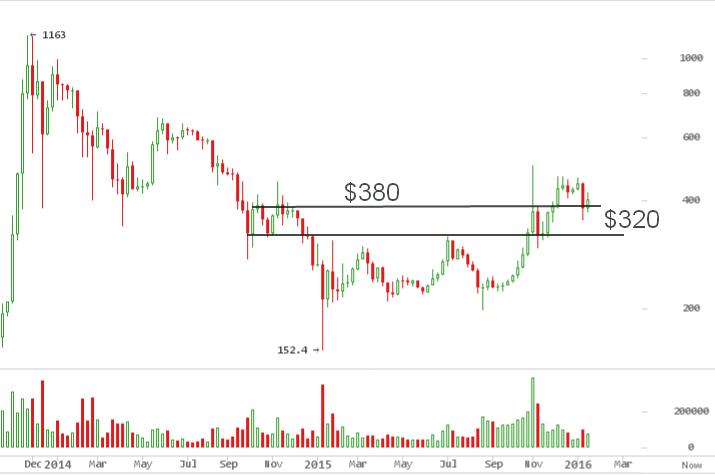 $380 will be first to cave to $320.
A less probable count may push prices back up to $431, creeping up the
August $198 low rising trendline. Ideally, find continued support
heading up to $460, a resistance that has been hard to crack since the
$504 high.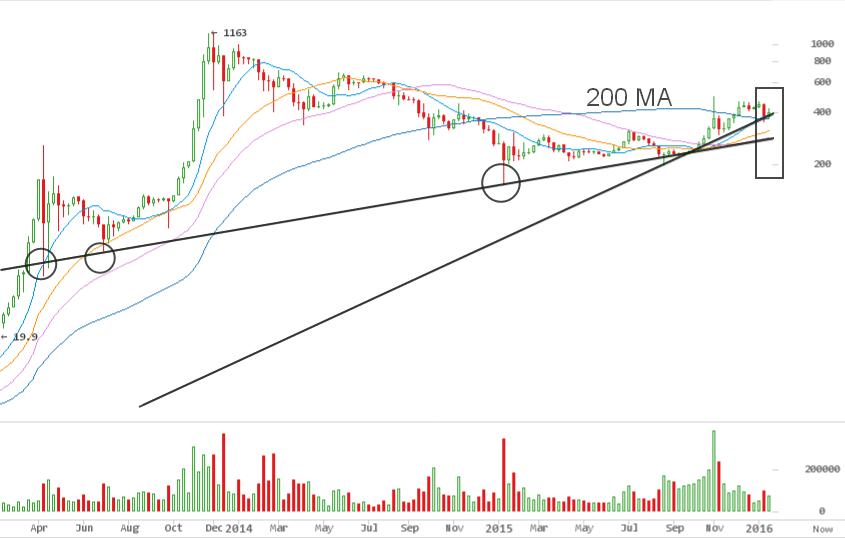 In the short to medium term, a bear will subdue the market, a stepwise
grind to retest lows from January 2015. It is difficult to see where new
money or interest in bitcoin as a speculative asset will come from. On
reddit,
Erick Voorhees, CEO and founder of instant exchange Shapeshift.io
expects"
"Bitcoin price to be weak until Core demonstrates competency in social
consensus."
"The threat of contentious fork will always loom large, and a prudent
investor can be forgiven for preferring to sit on the sidelines"