---
Bitcoin was in the mainstream media headlines again this week, as an official cash ban in India led to speculative spike in Bitcoin demand. On most occasions, it is the Chinese, fleeing capital controls via Bitcoin as a safe, censorship resistant asset. This time, it was their neighbours, after Prime Minister Modi abolished the 500 and 1000 Indian rupee note.
Demand on Indian exchanges and p2p marketplaces shot up, as the digital currency traded at $1000 in India versus a $750 global average. 8000 miles away, in the United States, Coinbase was fighting off an unprecedented legal request by the IRS to access its customers' history. Meanwhile, 2015's divisive bitcoin block size debate resurfaced as Segregated Witness, a soft fork proposal gained 26% adoption by mining nodes.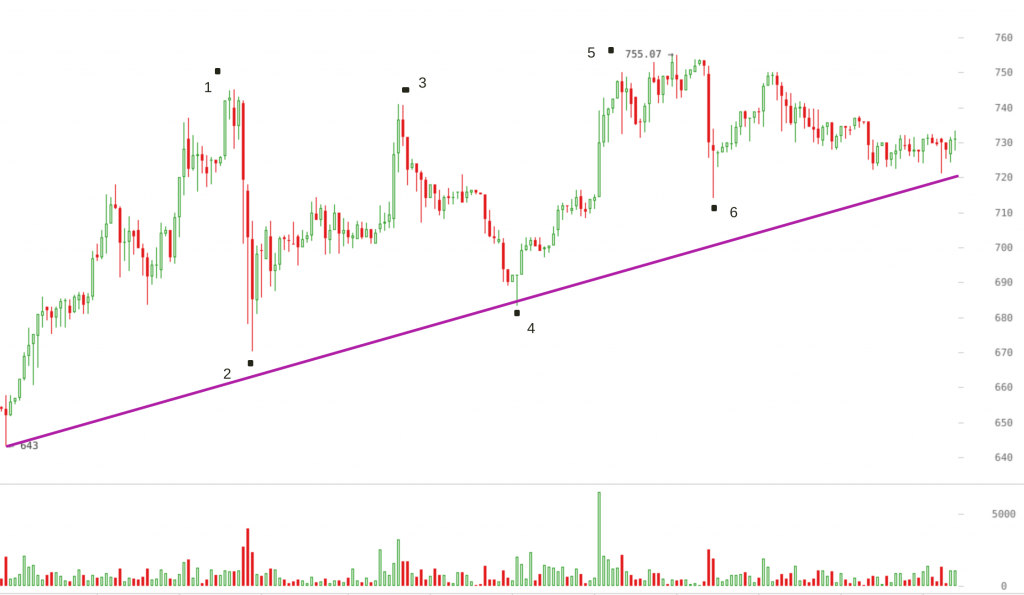 ===
Looking at the chart above, since the last analysis on November 6 at 1, price failed to breach the $750 level, forcing a sell off to a low dip $669 at 2. A steady rise followed, back to retest this resistance level and yet again fell short at $740, retracing back to a low $683 at 4. The rising trendline from October 29th's $643 low once again held as strong support, sending price back up to the multi month resistance at $755 at 5.
A consistent series of higher and higher lows since breaking $650 in late October suggests there is a pattern in play. Price has squeezed itself into a consolidatory pattern over the past 3 weeks, in what looks to be an ascending triangle wedge pattern.
This chart from bitcoinaverage illustrates a typically bullish continuation pattern on the 4 hour chart. The formation signals the market is gathering steam within this consolidation phase, before shooting off the roof. Price might have to make a last drop to a low landing spot, a fake out downward for a potentially last bounce back up past $750 resistance. As support is not far below us, a reasonable bottom here is anywhere between $720 – $700. Often, Bitcoin prices will trend, retrace back a step to clear a hurdle, before advancing.
Chewtoy from reddit bitcoin markets says:
"Not sure how many times the market needs to bounce off of $730 on Finex and tap resistance at $734 before it makes up its mind which way this is breaking…but it would appear at least one more."
As of writing this, price sits at $742
BITCOIN FUNDAMENTALS
Bitcoin trades at $1000 High in India after Cash Ban
A sudden speculative interest in Bitcoin reverberated across Indian Bitcoin exchanges, buoying prices to as high as $1000 on ZebPay, a bitcoin start up in Gujarat. Google searches and trading volumes spiked days after Prime Minister Modi officially banned the 500 and 1000 Rupee paper notes that account for at least 80% of cash circulation. The ban's impact has been divisive, despite its intentions of undermining black markets store of wealth.
The federal government is now contemplating a gold imports ban, a revered asset for holding value and popular for its aesthetic qualities. A continued wealth tax may incentivise consideration of alternatives such as US dollars or even, Bitcoin.
SegWit Resurfaces Bitcoin Hard Fork Debate
Segregated Witness, a proposed soft fork block capacity increase to 2.1MB, that also fixes malleability issues, has been adopted by 26% of all bitcoin mining nodes. But, a faction led by Roger Ver and Via BTC, a mining pool, has threatened to boycott the 95% mining node threshold requirement. They insist on a simultaneous hard fork to increase capacity, even with all the lessons from Ethereum hard fork debacle.
With close to $12 billion worth of assets on the line, a hard fork crisis would be bearish for the market and price.
First Big Four Accounting Firm to Accept Bitcoin
Ernst & Young Switzerland announced via a news release it will accept payments in bitcoin for its invoices as from January 2017. Additionally, the firm will install a Bitcoin ATM in its main building and offer every one of its employees a digital wallet.
As of today, Deloitte, KPMG, PWC and Ernst & Young, the world's top four financial consulting firms, have officially made commitments to bitcoin projects.
BITCOIN WEEKLY PRICE FORECAST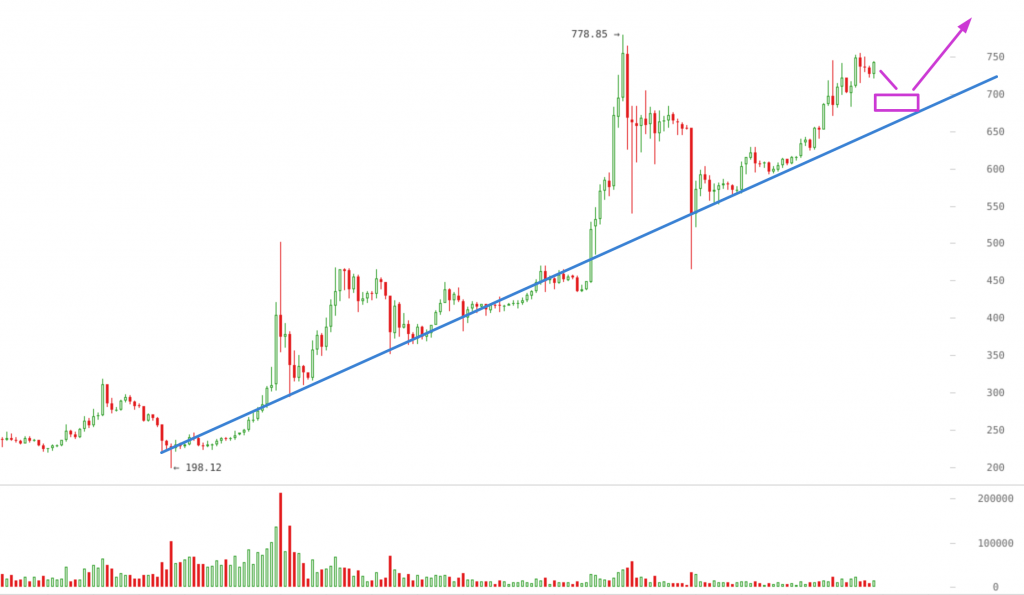 In the short term, price might dip to a low $700 as a final bottom, to find support on the rising trendline dating back to October 2015; a low probability, The market is gearing up for a break up, and it is unwise to bet on a drop.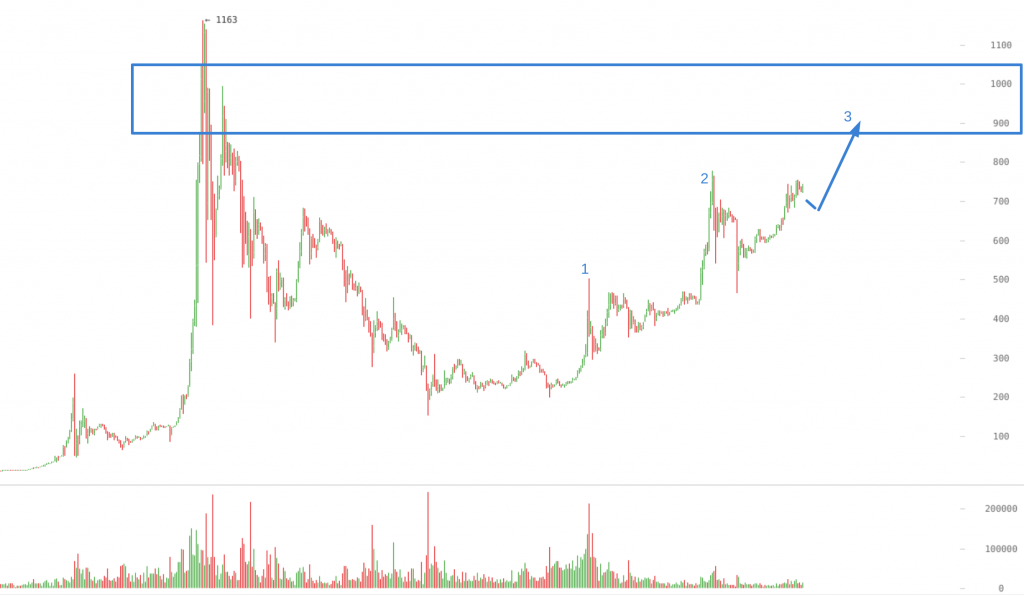 The next 8 weeks of bitcoin price action will be bullish, up until the $850 – $900 zone target is hit. John Bollinger, market analyst and inventor of bollinger bands is bullish, tweeting:
"The daily BTCCNY looks like a nice risk/reward setup for a long trade: smaller risk (support break) vs larger reward (upper band)."
The last and final mega third wave will rise up to the rectangular blue zone. For medium term to long term traders it is best to ignore the noise on the intraday charts and focus on the daily, 3 day and weekly charts. Traders are expecting a retest of the all time high, possibly breaking the $1163 high from December 2013.
With the Christmas holidays just around the corner, Bitcoin holders are in for an end of year of treat. There is no better gift than an all time high price.